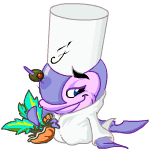 Look at this smug shit, he knows what he's doing.
Finally got all the pets I'm training on to one account and now every kitchen quest for a week has been 25k+. Like could u not…
You were saying?
Hell yeah, that's what I like to see when classes cost 7 codestones each.
Just got a fabulous offer on my goodie bag. Mystery Of The Kougra Paw + Bitten Green Apple. Truly hard to resist.
Got my account back!
With 2.5 days left of the Altador cup. ._. Gonna be the first year without a trophy.
At least they finally fixed it. It took 1 month, 2 days and 5 snappy tickets about various things, but it's back. *_*
No event chests yet, but otherwise I'm having the best luck today. So far I've found 2 Ambushes from the coliseum and picked one up from Pinkerton.
F Steel/Denim/Stonewash
F Seafoam/Gold/Jade
New hatchies today.  Considering how wide the genetic range of my progens is I think they both came out very lovely. Much prettier than last time.
They need new homes so if anyone is interested in one just send a crossroads to Icyhearts for 4-5k.
If no one buys them by the 1st they'll become my first exalted dragons. : )
Sent another bitchy ticket to TNT. It's been 17 days since they've last responded, when they were replying every day before. My premium renewal is coming up. Either fix my fucking account or stop charging me. =/

Its been 26 days now. I am getting so sick of this. About to just say fuck it and quit.

I think you can either call your card provider or your bank to see if they can stop payments from there. Not sure though.
I tried to give them one more chance since I believe tnt has said stopping payment like that will get your account banned and I'm still hanging on to this little shread of hope they'll get off their asses and unfreez it already. :(